To be honest, after finishing the first episode I wasn't sure if I wanted to keep watching it. Now that I have finished it, I am glad that I did keep watching it. I'm very eager to see what will take place in the second season.
Character wise?
John, the dad, I thought was better than Maureen, the mom. I hated that Maureen kept pushing her husband away when he really was trying to be their for her and help her. He did make a mistake when they were down on Earth, but if she didn't want him to go on for another tour with military, she should have said something. I just didn't like that she put all the blame on him. There relationship got better later on, I would say more in the last couple of episodes when they actually get intimate. Then there is Dr. Smith, who really isn't Dr. Smith, but a fraud. I would say my favorite thing about her is that she is not your typical psychopath. By that I mean in her looks and the way she acts. She is very good at pretending to be your friend then wanting to stab you in the back quit literally.
The robot was awesome. I was hoping Will would have given him a name, but he just kept calling it Robot or him. I hope in the second season they go more in depth on the way his face changes in the bubble design. Penny was the daughter I could relate to the most. She loves to read and she wants to become a writer. She wants to keep her parents happy, but if the good ones have to break the rules at some point. Judy was the more annoying one. At the beginning she was like a show off and angry with her dad, but if she would just have listened everything would have been fine and she wouldn't have gotten stuck in the frozen water. The biggest thing that annoyed me was that she was constantly acting like a mom and not a sister or a daughter. As for Will, I wasn't sure how felt about him. I think I was just picturing someone different and it took me a while to accept that this is Will.
Don was by far my favorite character. He was funny and so full of himself it was awesome and a nice break from the family drama. I like that he named the chicken and Debbie no less. I prefer Judy's character when she is around him than when she is around her family. He always struggled doing the right thing, but in the end he always did. Mostly if he was pressured into it. I'm relieved actually that he is stuck on the ship with the Robinson's. I'm excited to see him in the next season just as long as he isn't killed off right away.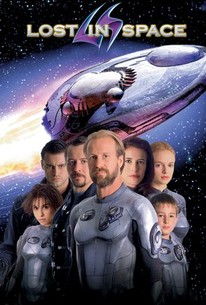 Growing up, I was a huge fan of the movie. I still am. Sometimes there is that one movie you just don't get tired of. For me, this is one of them. And it's not like it's top quality or anything. It's more like a B movie, but I have always enjoyed it. The youngest daughter, Penny, was my favorite in this as well. It was her sense of adventure and her style that I liked most. I have not seen the original TV Show, but I'm not sure I would be able to since the technology has changed so much and I would probably find it boring. I tried with the original Doctor Who and it was very hard, I didn't make it all the way through.
Well, I hope season 2 comes fast enough.